Fake employment vacancies in the name of the United Nations have become a staple of internet fraudsters. Recently, our intelligence team came across one of such scams. It was a PDF document being shared on social messaging applications. The document was advertising several vacancies into a non-existent agency of the United Nations called "The United Nations Commission for Industrial and Economic Development (UNCIED)"
Below is a screenshot of the beginning of the document.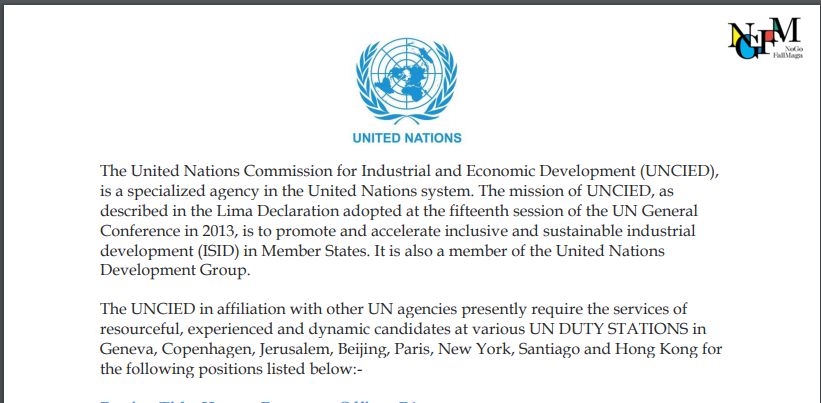 The document is 37 pages long with 16 different vacancies and is very detailed with proper formating and good diction. Suffice to say at a first glance it can fool anyone. But upon further scrutiny, it is not too difficult to establish that this is a scam.
First, a good rule of thumb is to always use a search engine to find out more information. Using google reveals no institution of the United Nations has such a name. Instead, what we find is a website that posted the exact same list of vacancies sometime in January this year.
This is a huge clue. Why would an organization post the exact same number of vacancies barely four months after? Of course, an explanation could be made for this but it remains a red flag.
The next pointer that this is a scam is the email address.

Visiting the domain of the email address, we see that it was recently registered on namecheap and a WHOIS search confirms this; the domain was registered on the 16th of December 2019. This fact is another red flag as it is a common practice for scammers to register new domains when undertaking a new scheme. Also, the fact that the domain has nothing on it should raise eyebrows as it is incredulous to believe that a commission of the United Nations cannot afford web development services.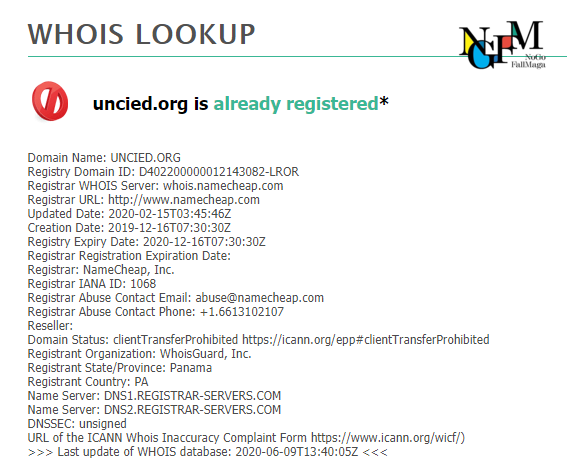 Digging further into the domain, we find that its mail server is active and is being hosted on the namecheap platform.

From the foregoing, we can see this is an elaborate ruse to hoodwink unsuspecting job applicants. The play here is that after an application has been sent in, the scammers will request payment of fees at one or more stages of the recruitment process. Also, Identity Theft could occur due to personal information obtained during the sham recruitment process.
Finally, for the would-be Job applicant, eternal vigilance and due diligence are indispensable.