It is that time of the year when retail stores offer huge discounts to their customers. Typically called Black Friday, retailers are looking to offer their customers mouth-watering deals before the Christmas season.
Unfortunately, cybercriminals are also hoping to cash in on the season as they now have a good pretext to execute their nefarious schemes. One of such was spotted by our intelligence team, it was making the rounds on WhatsApp. The scam is called "JUMIA BLACK FRIDAY GIVEAWAY PROMO."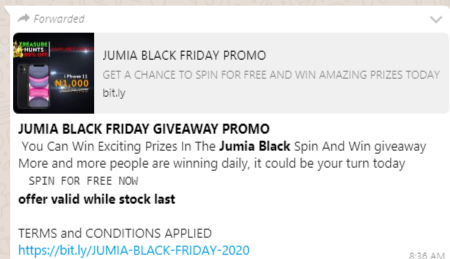 The scam tries to use the buzz around Black Friday to get unsuspecting individuals to click a link. The link leads to a bogus site that asks the user to spin a wheel to win a prize and then share to a certain number of people on WhatsApp to claim their prize.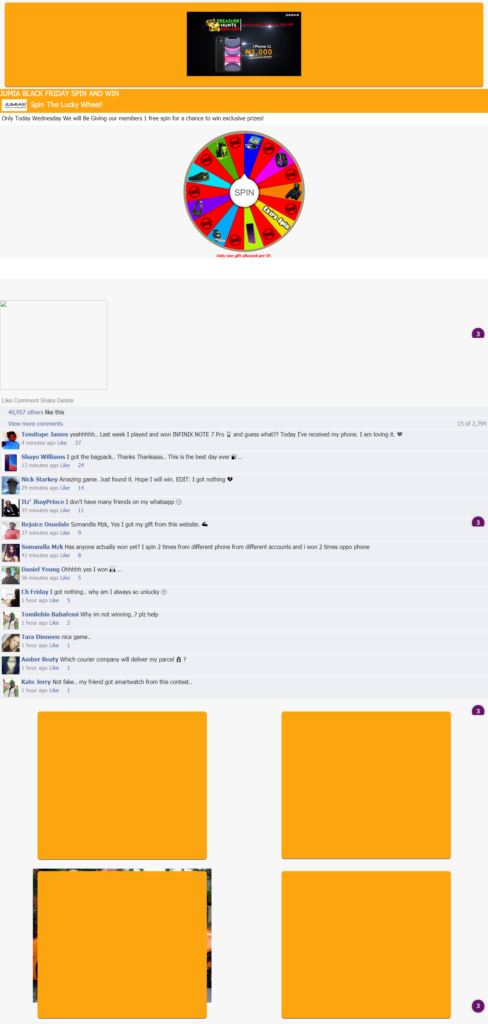 The injurious nature of this scam is that the domain contained several redirects that eventually led to a site serving malware. Since these scams are becoming more frequent, below are a few tips to help keep you safe during this season.
Do not click links: Especially, in messaging apps like WhatsApp, we cannot stress this enough. If you must know where a link leads to, click, and hold for a while then release, this will copy the link. Go to a service like virustotal.com and paste the link. Then run a scan. This will show if the destination website is malicious.
Be URL aware: Be on the lookout for links that begin with bit.ly. This is a URL shortening service which can be used to hide the true destination of a link. It is a favorite of cybercriminals, so when you see it be extra careful.
Always think: Pause and think. Don't be too quick to believe everything you see or read. Be skeptical and do more research, remember google is your friend.
The Following are more precautions to take during this Black Friday season and any other holiday season.
Update All Your Devices
Make sure the software on your phone, laptop, desktop, and tablet is running the latest version. Also, now is a good time to check for those pesky updates and make sure you install all of them, this will ensure your device is running optimally with fewer opportunities for cybercriminals to exploit.
Don't Click on Links of Discounts on Email and Social Media
You're seeing a lot of great deals during this period whether via ads on email, social media, or some other source. Do not click on any of these links, rather go to the online marketplace such as Jumia or Konga and search directly for these offers.
Practice Good Cyber Hygiene
Use strong and unique passwords for all your accounts, this can be easily done if you're using a password manager. You should also consider using a virtual card in which you can fund with only the amount needed for the items you wish to buy. Finally, make sure multi-factor authentication is enabled across all your online accounts.
Shop From Only Reputable Marketplaces and Retailers
If you see a deal or offer and the online store is unknown, it might be best to avoid such because cybercriminals have been known to set up fake online stores to hoodwink unsuspecting people. Naturally, any online store in which you want to make a purchase should have a good reputation and should be well known. Always do some research on the store and item and if you want to make a purchase.
Monitor Your Bank Accounts
Make sure alerts are enabled and functional on all your accounts. Also, make sure you have the contact numbers or email of your bank's customer support in case you need to reach them. You can check for this information by clicking the link below:
Table of banks in Nigeria and ways you can contact them if you are a victim of fraud