Ponzi schemes have a perennial appeal; each time we see new iterations of the same old scheme: they promise high returns to investors and use money from previous investors to pay new investors.
Recently, our intelligence team came across a few of these schemes in the cryptocurrency space. The first is called Bank of Tron [bank-of-tron.com]. It claims to be a platform for investing in the cryptocurrency TRON and is designed as a blockchain smart contract. The first thing that indicates this is a Ponzi scheme is the incredibly high profit it promises. Bank of Tron claims to be able to pay daily profits of 3.7% to 6.7%, which translates to 1,350.5% to 2,445.5% in a year!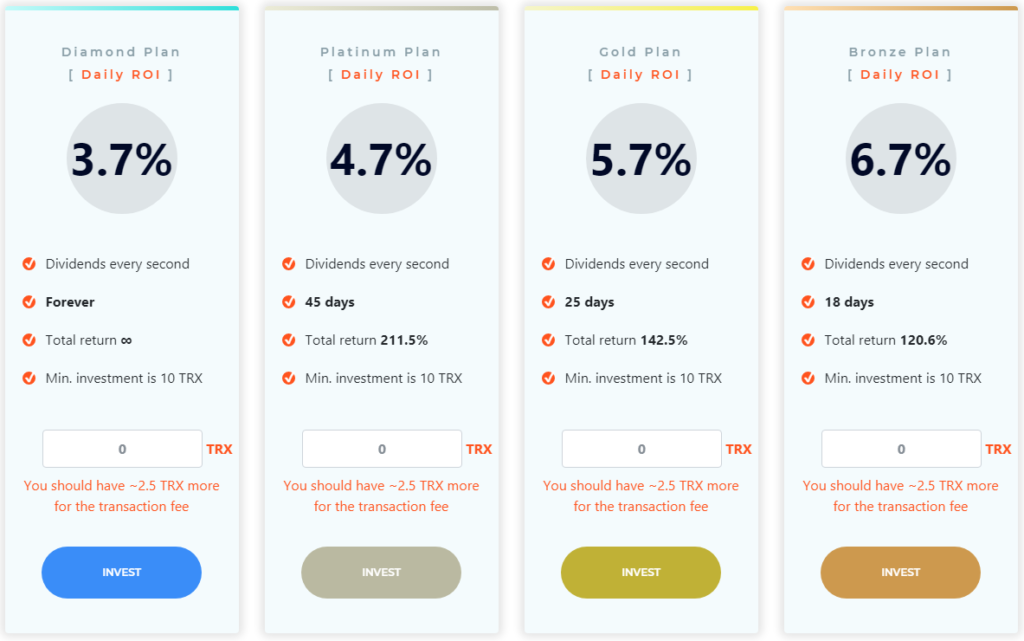 Another sign that this is a Ponzi scheme besides the high profit is that Bank of Tron does not offer any product or service, so where does it generate the revenue to pay investors? 'Dominus' an Admin in their Telegram group provided the answer below: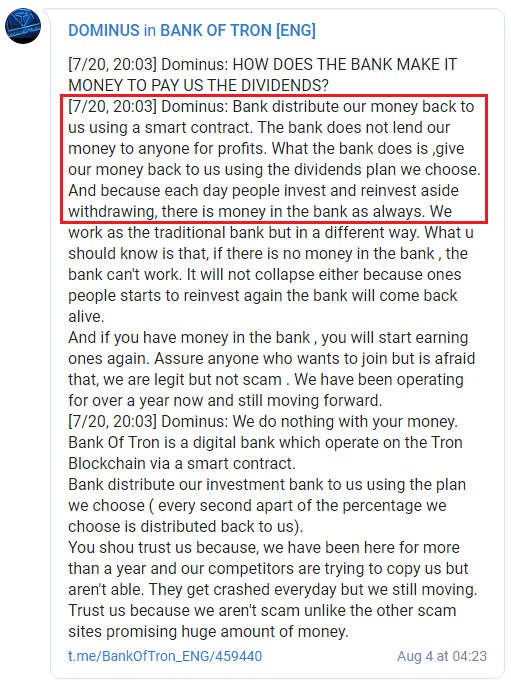 The Admin stated that Bank of Tron redistributes money back to its investors. This is just a round-about way of saying profits are paid from other people's investment. This admission clearly shows that Bank of Tron is a Ponzi scheme.
Apart from being a Ponzi scheme, there are other dangers that could be lurking that most investors may not be aware of. To illustrate, last year there was a similar website called Tron Bank which also promised to pay high dividends.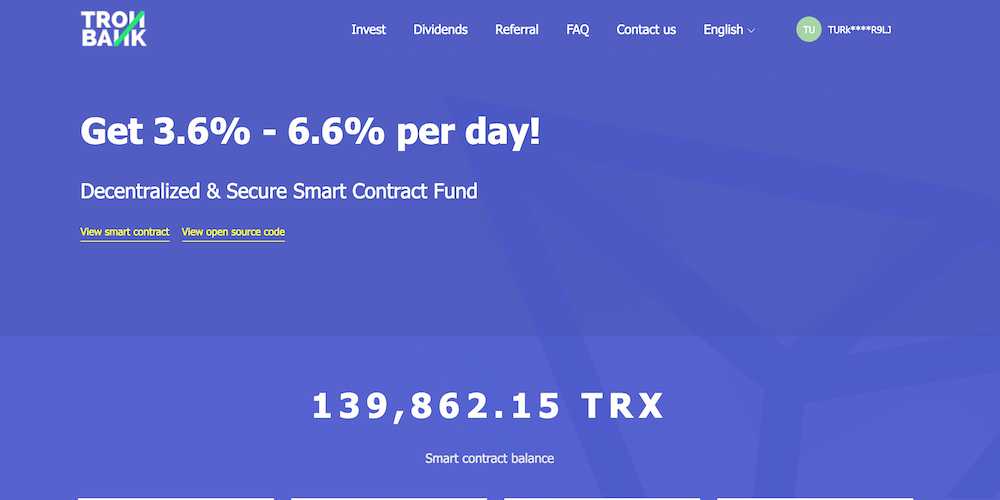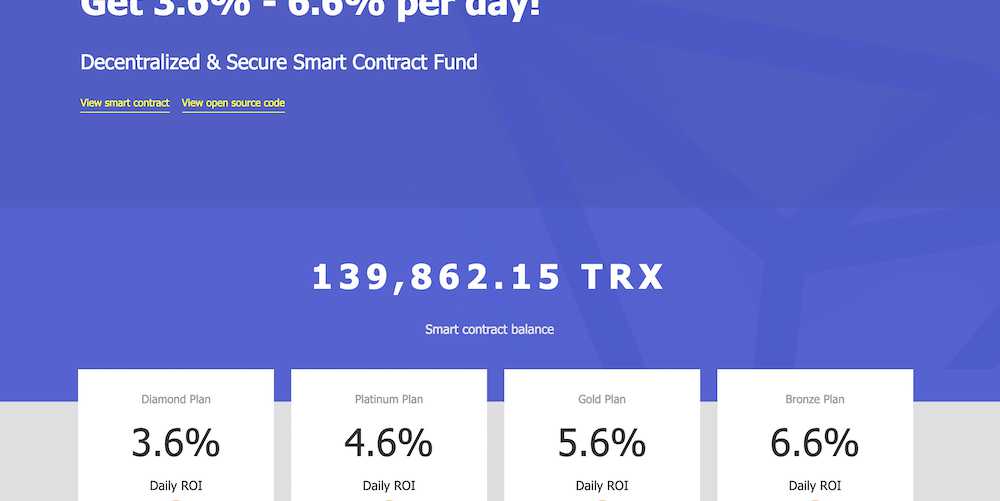 After Tron Bank operated for some months, it disappeared with all the funds of its investors. There have been accusations and counter-accusations on how this happened but a popular explanation posits that a backdoor was placed in the code of the contract which allowed all the funds to be moved.
The above incident highlights the added risk of investing in such schemes as very few investors have the technical knowledge to review the code of a blockchain smart contract to verify if they contain any backdoors.
Digging further, we notice that some other actors were cashing in on the popularity of Bank of Tron by setting up a clone of the site. Websites such as tron-bank[.]io and tron-bank[.]com are an exact copy of Bank of Tron but with a different smart contract address.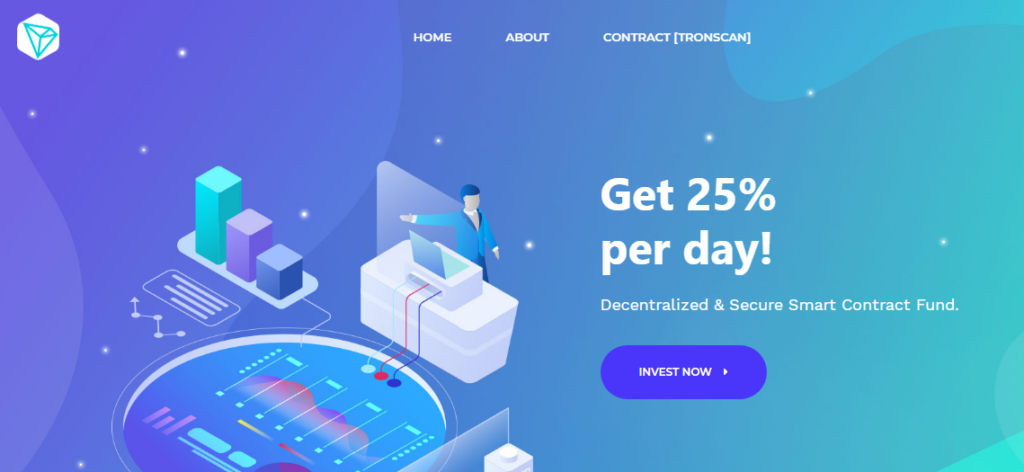 The latter domain; tron-bank[.]com redirects to another domain 250tron[.]com after taking the investor's funds.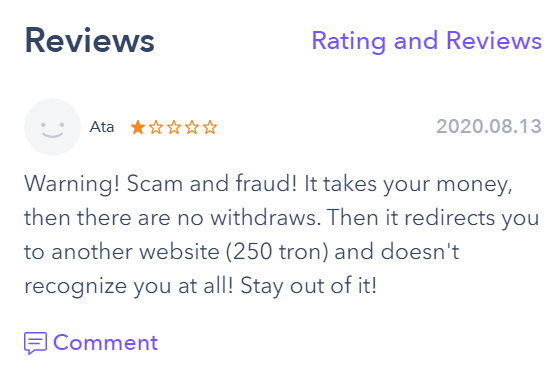 A final point worthy of note concerning scams is that the creators like to remain anonymous. All the websites listed in this report do not have a contact address neither do they list the owners or operators. Poking around, we were able to find an email address listed on the Bank of Tron Facebook page.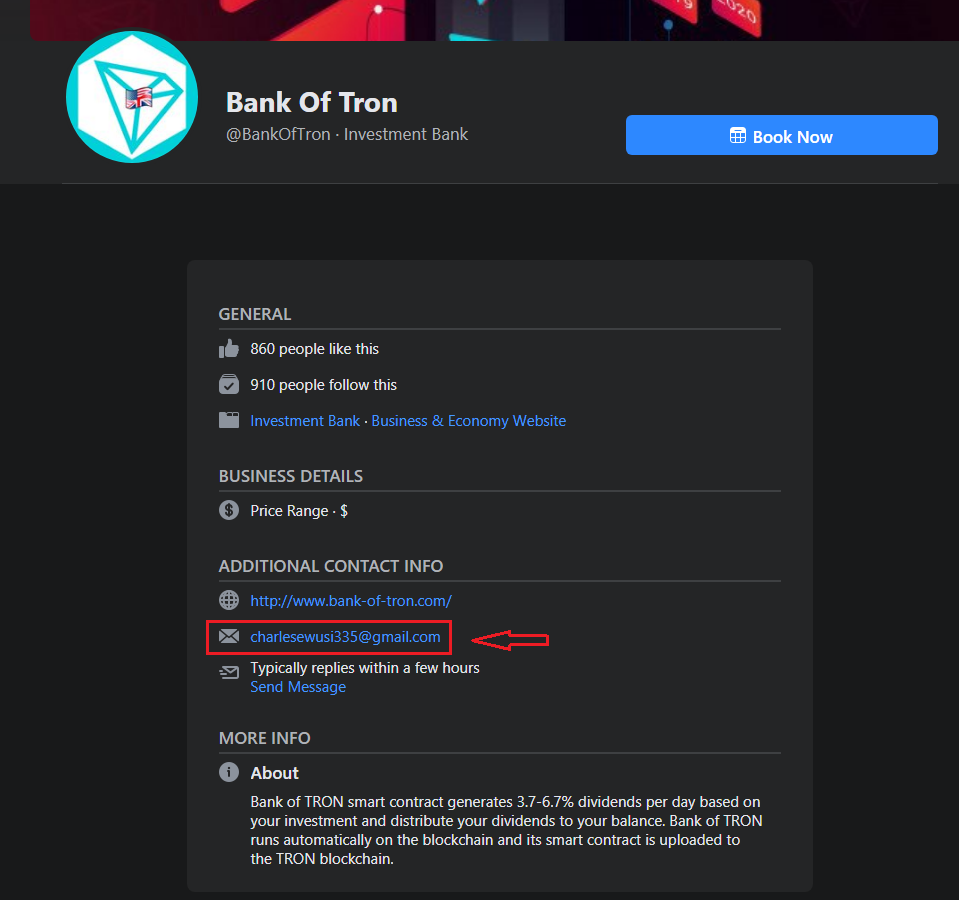 By sending an email to the address provided on their Facebook page and reviewing the chat logs on the Bank of Tron Telegram group, we were able to confirm that the Admin "Dominus" on their telegram group is the same individual that owns the email address listed on their Facebook page.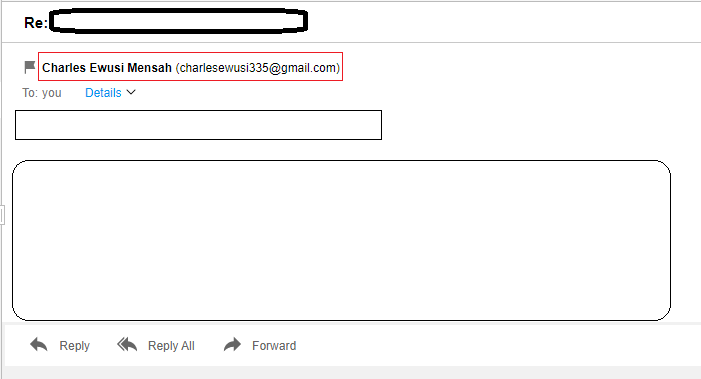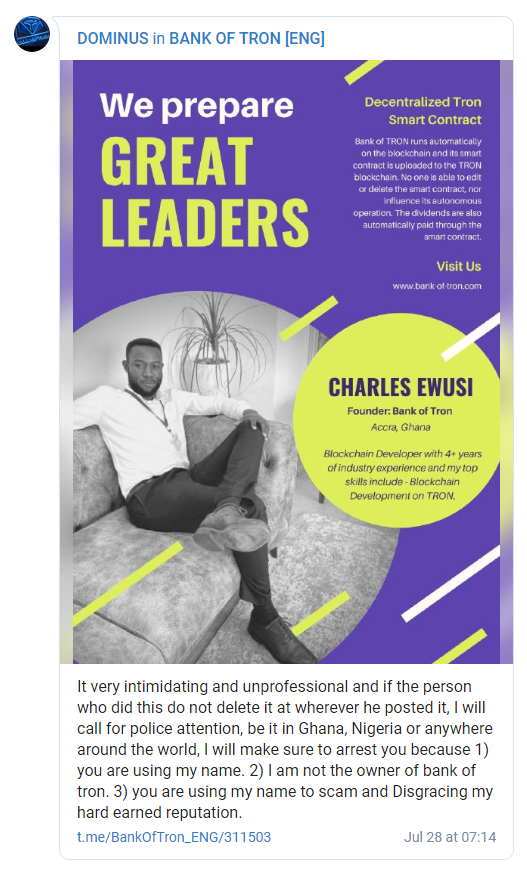 Mr. Charles A.K.A Dominus claims not to be the Founder of Bank of Tron. This may be true as the social media accounts connected to Bank Of Tron are just a few months old. However, he cannot possibly claim to not know those behind the scheme. Who hired him to be an admin on Bank of Tron Telegram group? Who made him the person to contact on the Bank of Tron Facebook page? The most likely options are he owns the scheme or he is among the owners or he knows the owners.
In conclusion, we advise you to not invest in Bank of Tron as there is a high probability of you losing your money.